Building a gaming PC for the first time can be a very challenging task and to choose between the processors – whether to Buy an AMD or Intel has been a debate which has existed for decades. Same applies to the graphics cards Nvidia Vs AMD which will give the best value for money.
Secondly should I buy a Nvidia GTX 760 or a GTX 770 will GTX 760 to fulfill the need for gaming with high resolution and decent FPS in all gaming titles. How much more do I need to spend if I go ahead with a 770 build? All these questions can be very daunting and make the task even more difficult.
Now the 3rd biggest problem is the reviews we find on all the tech sites like tech power up, Toms hardware or from Linus tech tips have one issue in common they consider the US pricing and hence decide whether you should buy a 270X or a GTX 760 based on performance per dollar. Now this can be really inaccurate as pricing in India for Hardware is very different than in US or UK or elsewhere. We need to understand, track Indian pricing of hardware then draw a performance comparison and then recommend the best components which offer Best value for Indian Rupee.
Another big point is to look at the service/distribution network of
the component you are buying. Why is this important because if something goes wrong 6 month after purchase you would
not be carrying your graphics card 500 km to get it replaced?
Also, they will not do instantaneously. Buying online can be a good Idea but buying from a local dealer can be beneficial for after sales service & support.
PC Configuration Basics for beginners

–There are many combinations which you can buy when it comes to PC components. But the best configuration is that which optimizes a PC performance as a whole and give the best possible experience.
For eg. I would not suggest someone to buy a

GTX 780 ti

with a core i -3 processor or 4 GB ram with a core i-7 processor since if we do that we will have a bottleneck component, which will reduce the performance entire Rig.
So it is essential to have all components maximize performance in relation to each other. So we club a core i7 with a

GTX 780ti

and

R9 – 270x

with a core i3 for best results and best utilization of our budget.
All the PC gaming Build in the article or on Candytech.in are based on two principles:
Best Value for Money

Performance of Gaming PC as whole for multiple tasks
General Note: PC Gaming is Graphically much more advanced compared to Consoles.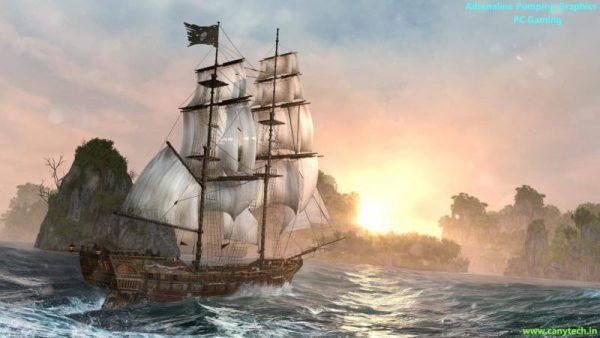 Starting with the 1st Best Gaming PC configuration from the 3 best gaming PC configuration under Rs 50000 India 2014
GAMING PC CONFIGURATION: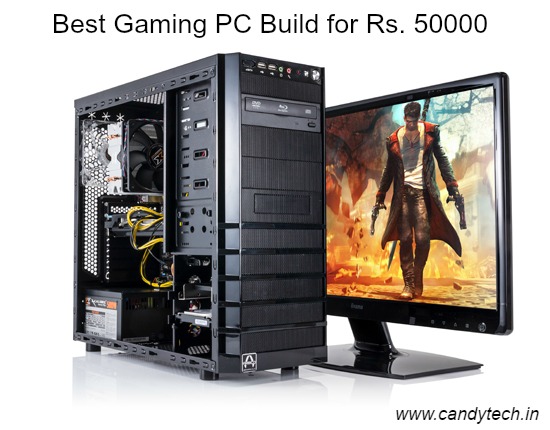 Expected Price – Rs. 3500
Spacious Supports 6 fans can easily house graphics cards up to 12.6 inch, 2 front USB 2 ports and 1 USB 3 port. Good design and stylish.
Price – Rs. 6099

Details – Dell E2014H 19.5 inch LED Backlit LCD Monitor Good Monitor offer up to 1600*900 resolution which is great for this PC configuration. With 1080p PC may find it difficult to max out some titles but with 1600*900 resolution the experience will be smooth.
Why I am not suggesting a 1080P monitor is for the simple fact, that higher resolution monitor will need more powerful GPU and CPU to render graphics, and with this build would strongly recommend this monitor as you will be able to play all current games like Assassin's Creed Rogue, GTA 5, CS:GO, Fifa 15 , Battlefield 4, Far Cry 4 and even the dreaded Assassin's Creed Unity at good frame rates.
The monitor comes with the Dell display manager, which offers great customization in terms of setting, brightness, contrast, sharpness and other display options for watching movies, playing games and reading. You can set it up the way you want to reduce strain on eyes.
Expected Price Rs. 6050 –

Would recommend a 8 GB RAM(buy 2 sticks 2*4GB for dual channel) you could also buy a 4gb stick which will cost you 4k and later upgrade as required. Preferably go with Corsair 8GB one of the best build quality components.
1 Tb hard disk is the minimum you should be buying along with this rig and Seagate is good compared to other manufacturers for replacement and warranty fulfillment. The Seagate barracuda has a spindle speed of 7200 RPM which is better than most 5400 RPM drives, it offers Cache Memory of 64 MB and high-speed data transfer SATA up to 6GB/S. I have been using it for last two years and there have been no issues.
To run a 270X which is recommended for this Rig you will need a 600 watt PSU minimum so go ahead with a Corsair 650 so you have no trouble running it, don't buy a low-quality PSU which will not let your card and processor run on full load and may damage the components also. PSU minimum of 600 Watt is considered good. Also, if you have any distinct plans of running a crossfire on these AMD R9 – 270x you may have to buy a PSU which is 700 watt or more this motherboard though does not support Nvidia Sli. The cost will go up by 4k. For now let's assume we will be running only 1 card which is sufficient for the current setup.
Corsair 650 watts is a decent power supply for the price, would recommend it with this build, if you wish to spend more and get a better PSU, you can look for

700 Watts Cooler Master power Supply.
Expected Price Rs. 7500 – 7800 – I am not an Intel fan or anything but as per all benchmarks and personal use intel runs on low TDP and power consumption and generates less heat along with excellent performance. For this range, you can purchase the core i3 or AMD 6300 or any other AMD architecture based processor for Gaming. You will not have much performance difference between the two, however, would recommend the Intel processor. You can also upgrade the Intel Haswell processor to a core i5 using the same motherboard we have chosen without incurring any extra expense.
The Intel Processor is clocked at 3.5 Ghz with 3MB Cache, it is based on the Haswell architecture and is manufactured with 22 NM manufacturing process. The processor has support for Intel hyper threading technology.
Expected Price – Rs. 7,000 to 7,800
GIGABYTE GA-H97M-D3H :Offers all basic features and sufficient number of SATA, USB 2.0 and USB 3.0 ports and supports the graphics card well. IF you are looking for overclocking go ahead with MSI

Z97

Guard Pro

Motherboard will cost you around Rs. 8,900. However the processor in this rig does not over clock you may have to choose a K series processor if you wish to overclock.
Read –

9 Best Processors for Gaming PC Build.
Price – 14,400
The heart of the gaming Rig is a graphics card it has to be power full and in gaming it makes up for a weaker processor, only some CPU intensive games require higher processing power. With this build I am glad to suggest a R9 270X offers excellent performance for Money. Here is earlier review of it makes is better than a

NVidia 750ti or GTX 660.
GAMING BENCHMARK R9-270X
Summary – 3 best gaming PC configuration under Rs 50000 India 2014
PC Configuration

Model & Specification

Price

Cabinet

Cooler Master Force 500

3505

Monitor

Dell E2014H 19.5 inch LED Backlit LCD Monitor

6099

Ram

8 GB Corsair Vengeance

6000

Hard Disk

Seagate Barracuda SV-35 1 TB Desktop Internal Hard Drive

3800

Power Supply

Corsair VS550 650 Watt PSU

4000

Processor

Intel 3.5 GHz LGA 1150 i3 4150 4th Generation Processor

7400

Graphics Card

Sapphire AMD/ATI Radeon R9 270X with Boost OC 2 GB 2 GB DDR5 Graphics Card

14400

Mother Board

GIGABYTE GA-H97M-D3H Motherboard

7499

Total
52,703
Total Cost of Purchase – 52,703